RV storage canopy, outdoors shelter
Our RV storage canopy is an affordable option for different storage needs. Our carport canopies give you versatile, easy-to-install spaces for boats, campers, cars, machinery  or goods in general. 
Get an isntant garage without extra effort, protecto your belongings from the weather with this stylish tarp shed-like garage. 
To take into account when installing the RV storage canopy
It is fairly easy to install our carport canopies, however there are some tips we would like to share with you.
It is recommendable to anchor the RV storage canopies to the concrete. You can do this by using a sleeve anchor (You can use ½ x 2 ¼ or ¾ x 3-inch), drill 3 holes on the concrete that fit the abse plate patern, place the sleeve anchor and tighten the base plate.
Wind load: 60MPH. When strong winds exceed 60 MPH, only the cover should be removed and stowed ina safe area.
Structure without cover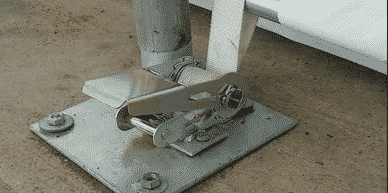 Carport canopy base plate anchored to concrete
Sleeve anchore we recommend to use
Where to get the carport canopy?