Container roof kit: The best way to cover large areas
You may have two old containers sitting around or large spaces that are not being used and you want to make use of this space. You need a container roof kit!
Thinking about hiring someone to build such a space seems like a good idea, however you should take into account the large amount of money in employees and materials you'll be spending to get a nice shipping container workshop.
A great solution to cover large areas is the shipping container roof! In this guide we will explain everything you should consider before getting one.
Common uses for a container roof
You can use shipping Container roofs in between two 40′ overseas containers (conex box). As a result, you would get a garage, shelter, carport, and protection from the sun and rain in between your boxes. Also, get yourself some additional foot clearance between them, which would give you at least 14 to 23 feet height measured from the center of the arc.
Create sheltered storage or work area to protect materials and machinery from the outside with these steel shipping container roof kits.
You can turn existing storage containers into:
Instant fabrication shop.
Onsite equipment maintenance shop.
Employee assembly and lunch area.
Warehouse.
Large equipment shelter.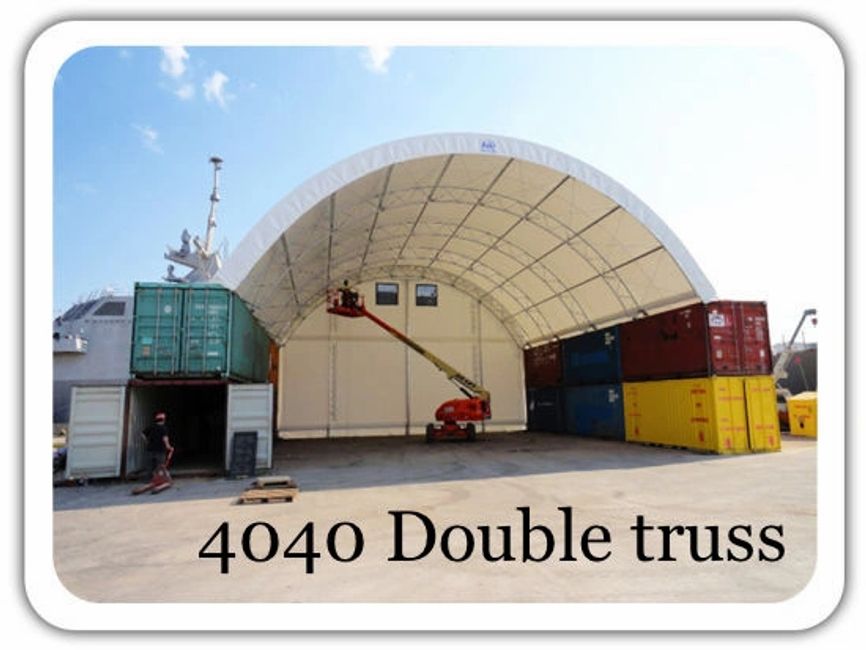 Where could you purchase them?
Worry no more! You can find many options of shipping container roof kits in our store, just click here!
Types of shipping container cover
We can divide them into two groups: 
Conex box + metal roof.
Shipping container + carport kit.
As you could guess, there are some advantages and some disadvantages of both kinds of roofs, we'll list them so that you can make an informed choice.
Cons of metal container roofs:
They are fixed
Can only cover relatively small areas.
You need experts to install them.
Delivery times are usually long.
Pros of metal container roofs:
They are structures with high snow and wind resistence.
Depending on the material, they can last for a long time.
Cons of fabric container roofs:
If there is a strong storm of more than 60 MPH, you have to remove the cover.
Pros of fabric container roofs:
Installation is fairly easy. 
Can cover large areas.
Can be built without conex boxes.
The shipping container shelter protects from UV rays and gives good lighting.
So... Which one is the best?
The main benefit of using these two particular types of foundations with storage container roof is that they allow more height for your building, which can be particularly beneficial for storing large equipment or materials. 
You can use shipping containers as office spaces or additional storage if needed.
to sum ir up, we recommend you choose the fabric shelter because it is much more economical and their life span is longer.
As the product is pre-engineered, delivery times are very fast. They fulfill the most important needs, like protecting us from the weather.
Wherever you anchor our fabric structure, you can expect exceptional benefits for your staff, materials, gear, and overall on site coziness. The translucent fabric roof will light up the interior without the need for artificial lighting while blocking 99.95% of harmful UV-A and UV-B radiation. It also helps to maintain an interior climate that is 15 degrees cooler in the summer and warmer in the winter.
What sizes are recommended to build a commercial tent garage?
Create a sheltered storage or work area to protect from the elements with these steel shipping container roof kits. The dimensions depend on the length of the conex box, 20′ or 40 ft.
Containers can be 20, 26, 33, and 40 feet apart, so the maximum area you can occupy are:
20′ Shipping container 20×20 ft
20′ Shipping container 26×20 ft
20′ Shipping container 33×20 ft
20′ Shipping container 40×40 ft
40′ Shipping container 20×40 ft
40′ Shipping container 26×40 ft
40′ Shipping container 33×40 ft
40′ Shipping container 40×40 ft
40′ Shipping container 60×40 ft
How to build a roof between two shipping containers?
One of the questions you may ask is "do I need to have advanced knowledge to build it?" The answer is: Not at all! That's because they are very easy to install and we provide you with accurate instructions so that you can build it yourself with basic tools.
Where could I install a shipping container roof garage?
You can install it right on the ground or you can build up some 2 to 10 feet sides yourself with 2×4's. Likewise, you can install it atop 2 office trailers, a couple of existing structures, a couple of school buses or whatever you have on your property that you could use a carport in between. Create a versatile design from the foundation, shipping container or any structure just by adding a carport kit.
Whenever needed, you can anchor your container roof kit from storage canopy be to ecology blocks or shipping containers.
If you're curious about whether you can anchor one of our fabric structures to the materials that you have available, contact us today and we can help you find out.
How far apart should the containers be?
It all depends on the type of container you have. Usually, you should choose the length depending on the size of the container (20 or 40 feet). To create a storage container garage it is necessary that you have 2 shipping container garages and in case you have only one, you can use any kind of support with the same height and length of the container to connect it.
To know the exact distance you should place the containers from one another, visit the manuals page to know how to proceed.
How to attach a roof to a shipping container?
There are two ways to anchor conex boxes with fabric covers. One is to bolt them and the other is to weld them. For example, if you want something temporary, it is best to bolt them down. On the other hand, if you want something more permanent, it is best to weld them down. 
Welding will also provide more stability and this will ensure sure that when it snows or rains, your garage container will remain intact.
Should I anchor the container to the ground?
This is very important! In states where the wind is strong, it is necessary to anchor the containers.
If there is a storm, the wind can move some the containers and the roof, potentially bending components.
If there's a very strong storm (60mph+) but you have previoulsy anchored the container and the roof, the only part you need to remove would be the cover, the structure will remain intact. 
Do I need some kind of permission?
Our structures are considered "temporary structures". As a result most states won´t demand a permit.
Check with your local planning authority and in case your county requires a document, make sure to get in contact with us to get more information.
How do shipping containers roofs drain?
Installing them normally generates good waterproofing, some drops may enter depending on the wind direction when raining. However, there are scenarios where 100% waterproofing is needed. As a solution to the question "how do you keep moisture out of a shipping container?", you can make the container gain two feet of height on the inner side so that the entire length of the container will drain out, therefore the drainage will be perfect.
Internal vs. external anchoring?
External anchoring is used to have a much higher impermeability by sacrificing space. Depending on the case you must separate the containers further from each other.
The external anchorage is recommended for prefabricated tents over 33 feet wide.
Roof between two shipping containers
Available in kit form, Storage and Canopy Inc container roof kits can be shipped directly to your job site. 
Once your job is complete, the shipping container cover can be easily disassembled and stored in the container or reinstalled at another location. The galvanized steel frame and heavy duty, flame resistant PVC cover offer years of maintenance-free protection.
Storage and Canopy inc Cover products are easily assembled, you can check this video for further explanations. Gaining more space on your job site is a snap!
Make the most of your space with shipping container covers
Our Shipping Container Roof System can convert your existing storage containers into:
Instant fabrication shop.
Onsite equipment maintenance shop.
Employee assembly and lunch area.
Warehouse.
Large equipment shelter.
COMMERCIAL+STORAGE+TENT: Create a sheltered storage or work area to protect from the elements with these steel conex box garage kits.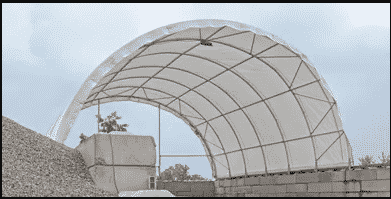 The Storage unit canopy tent is the ideal protection from wind, rain, snow and sun.
Frames are manufactured from our 14 gauge steel tubing. 10 oz 22 mil white premium polyethylene rip-stop covers have a 7 to 10 years lifespan particularly in heavy snow areas. We recommend adding one of our rafter kits, sold separately. End panel kits are available, and rooftops.
Commercial industrial storage tent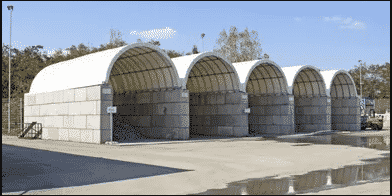 There are no internal supports to interfere with maneuvering equipment, such as loaders and pile drivers. The wide open space also makes excavation jobs and coal processing easier. Offering superior height and clearance when compared to traditional metal or wood buildings.
Workshop fabric structures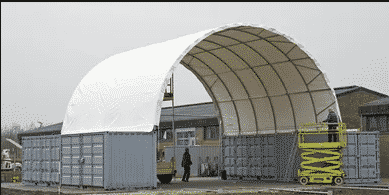 Storage canopy inc provides long-lasting fabric membrane structures. Our durable shipping container roof trusses, composite fabrics and hot galvanized steel truss systems are engineered to withstand the world's most extreme climates while providing safety that exceeds current standards. With their ease of installation and extreme portability, our fabric buildings offer a superior alternative compared to pole barns or metal, wood or brick-and-mortar buildings.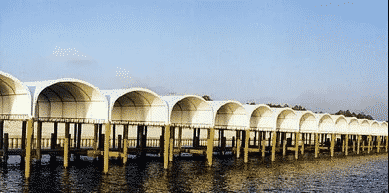 Best boat Shade solution/tents for sale. You can easily add portable carport if you require more space for equipment maintenance to your work site. The cost effectiveness of these structures makes them ideal for you to use them as temporary buildings. When project locations change, you can easily dismount them and install them somewhere else.
Fabric Structures for Marine Sandblasting & Paint Applications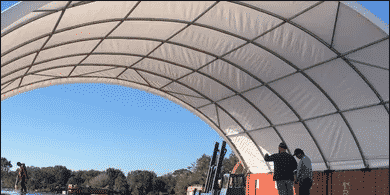 Commercial storage + tents for sale. They meet all the Environmental Protection Agency's requirements for proper blasting containment, including for grit and Black Beauty abrasives. When you consider how much you can save by having one of our structures installed when compared to building a permanent structure, it's easy to see why they are a popular option for maritime companies that need a safe sandblasting and paint facility or patio sun shades.
ALL BUILDING SOLUTIONS ARE 100% MOVEABLE AND RELOCABLE!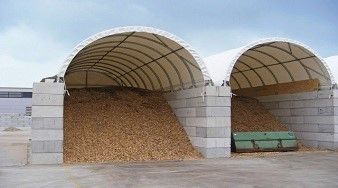 A great feature of these canopies is that you can move them to any site, you just need to put them back in the original box and save the parts of the armason. You can reinstall it as many times as you want in different places.