Fabric buildigs are excellent to cover large areas

Fabric buildings are a great choice if you're looking for a multipurpose building solution that offers quality

Our tension membrane structures offer an open-span design that can be easily relocated as a result. Assembled in less time than traditional buildings.

Unlike wood-built construction, steel buildings, concrete or tilt-slab buildings, or brick-and-mortar structures. To clarify, our custom build structures have minimal foundation requirements and drastically reduce construction schedules.
Fabric building systems from Storage and Canopy structures are designed for rapid setup with minimal labor, equipment, and tool requirements. Our tensioned fabric buildings are engineered to meet local and international building codes for safety. They are made with the highest quality materials for long-term use and are custom designed to meet specific building requirements.
Choose from the largest selection of fabric building designs, sizes, frame materials, fabric membrane types. All engineered fabric buildings from Storage and canopy can be configured with any combination of windows, personnel doors, equipment doors, and hangar doors, and equipped with many support packages to increase energy-efficiency and comfort, including: HVAC, insulation packages, power generation and distribution systems, as well as plug-and-play lighting and electrical systems. Click here for more on Why to Choose Fabric Buildings.
How much does a fabric building or clear span cost?
Fabric building or hoop barn prices depend on the company and where it is made. In addition, the price is $3.5 per square foot, due to covid 19 our prices have gone higher. Since companies are doing their best to keep the prices at $3.5 because the price of steel is double.
For example, the best-seller in the U.S. is the 40x80x20 fabric building it costs $19.023,00
You have to keep in mind that these prices are for roof fabric like the image below: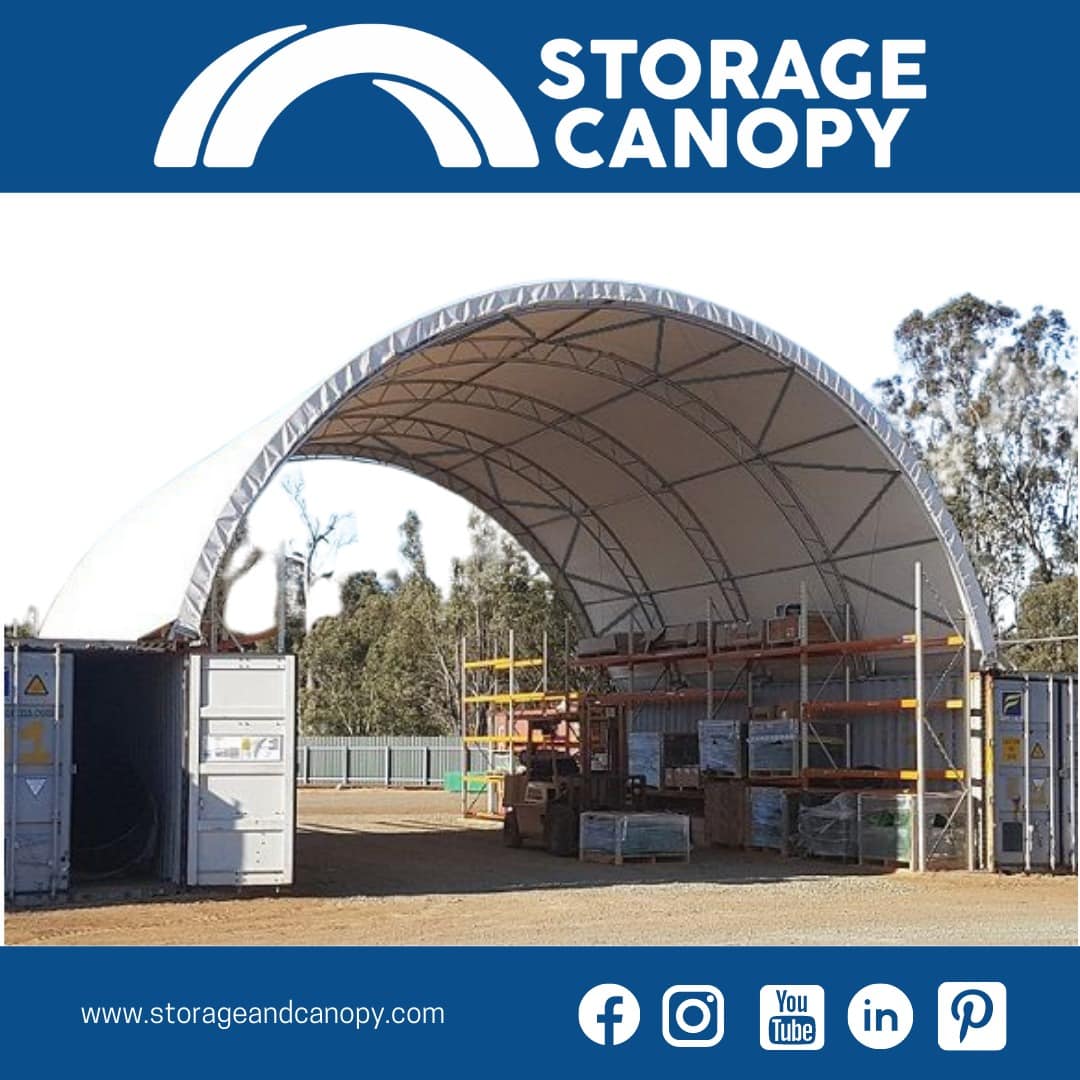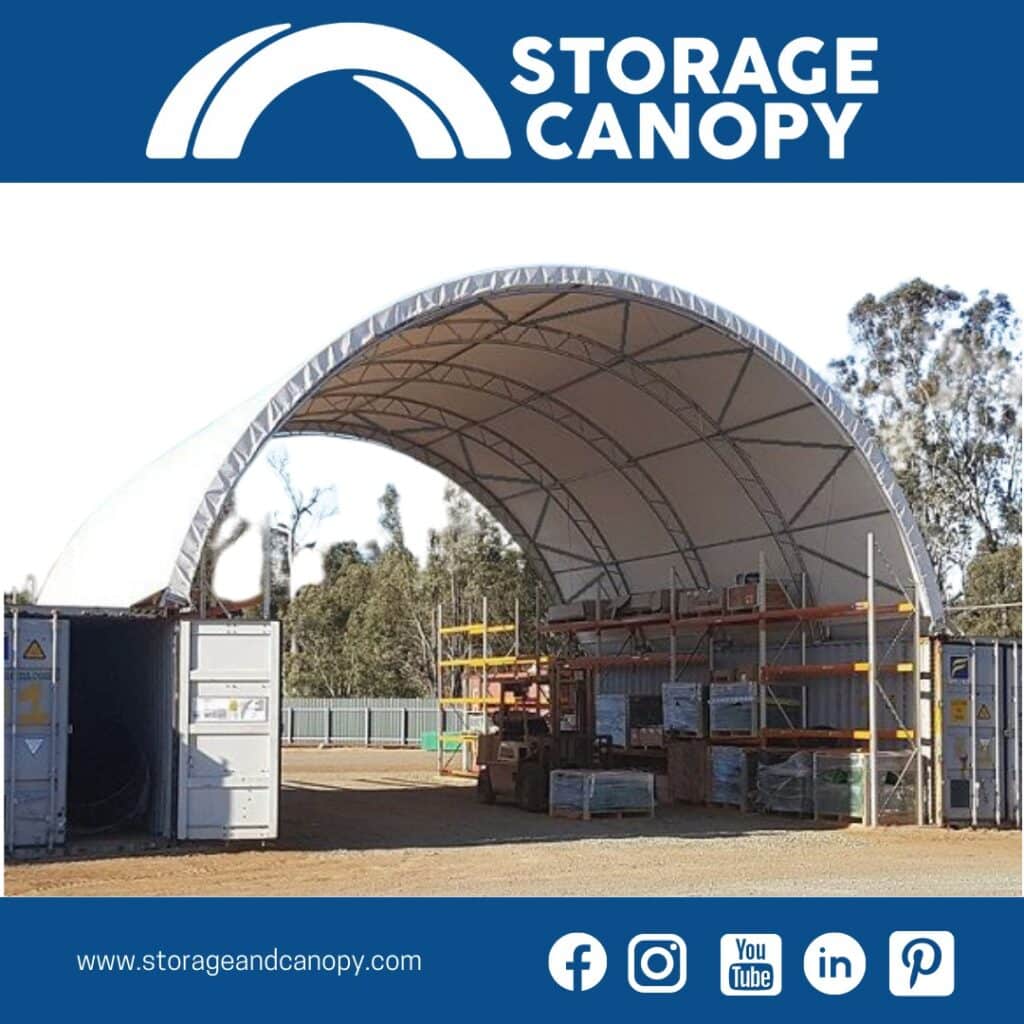 Giving it more height, walls, changing the structure makes the price change. To validate the different models that can be found, you can enter this page. Or completely locked in here.
How long does fabric building last?

Most of our fabric buildings can last from 15 to 25 years. Everything depends on the type of material and the weather and conditions that you keep your fabric building in.
After this time, the shelter will most likely need to be replaced because it has been in use for many years. When you change it it's going to lat you a lot longer
What types of fabric buildings are there?
Freestanding Buildings
Firstly, our hoop building can be used for many purposes, including storage away from the sun during hot days, they can also be used to park your boats, trucks, machinery, etc.
To keep them away from any damage, they work great if you are looking for a temporary structure or a quick rooftop to store your vehicles and or belongings.
Garages & Vehicle Storage
This structure is most commonly used to park your RV, boat, or car. Keeping theme safe when it comes to hash condition, its small size makes it more common in driveways, neighborhoods, and more local places. It also makes installation a lot easier without the need for any complicated tools.
Livestock Housing
The Grain storage is perfect when you're looking for a large tent to store, garden, and or to have an outside event.
It will keep any weather from damaging you or your work. These building materials will make a great advantage when it comes to gardening because of their PVC cover blocking the harmful sun rays
Fabric roof buildings
Industrial fabric building roofs will work perfectly to keep your animals in place.
It can easily be placed over wood posts or secured on the ground it's also great with add-on steel poles. You can keep it off the ground and add as much height as you need keeping your animals and or storage safe.
Hay Storage Building
Our hay storage buildings are more of your hardcore storage units for big trucks pallets, merchandise, and so on. It will keep your storage safe from different weather conditions and can be installed within a few days.
These are usually used by bigger companies that are in need of space full temporary storage units without all the trouble of construction.
Tents and canopies
Tents and canopies will be your best choice if you have any livestock and need a roof over their heads.
Its easy instructions and setup will be the best option, unlike building a pesky barn that could take days and cost more works great as a Riding Arena.
You could start building in the morning and have it done by the end of the day without the need for an installation crew. The building includes its galvanized steel poles. In other words, it will keep it strong and steady, and safe while its PVC cover reduces temper for a healthy living space.
Hoop Buildings
The hoop building's tall structure is why it is so popular its length and height can be used for storing almost. Above all, anything you want like equipment storage while keeping its temperatures low. It can be placed on top of containers or the ground to keep things dry and cool.
Economy Buildings
This building project is specifically made for your cars and trucks. Therefore, its convenient size works as a garage with a front and back cover with retractable doors so your car can stay away from the rain and sun. It could also be used as a small storage shed in case you don't need a lot of space.
Compost Storage
Finally, tension fabric building has no limit when it comes to storing. Therefore, its open spaces are great for placing firewood, dirt, or anything your trying to keep away from heavy rain for the moment and could be easily be moved anywhere else there very energy efficient and manageable.