Affordable Hoop buildings and Storage for your storing needs
Hoop Buildings are mostly known as portable fabric buildings or storage.  If you are interested in buying one for livestock we recommend one of our bigger models to fit your needs such as the hoop barn.
Their galvanized steel frames and PVC fabric covers make them more affordable, manageable, and convenient. It is a better option than hiring a construction service.
If you are looking for just storage, we have plenty of other models that would fit your budget. Inside them, you can store anything from hay rolls to cattle feed and keep them away from harm from any weather condition.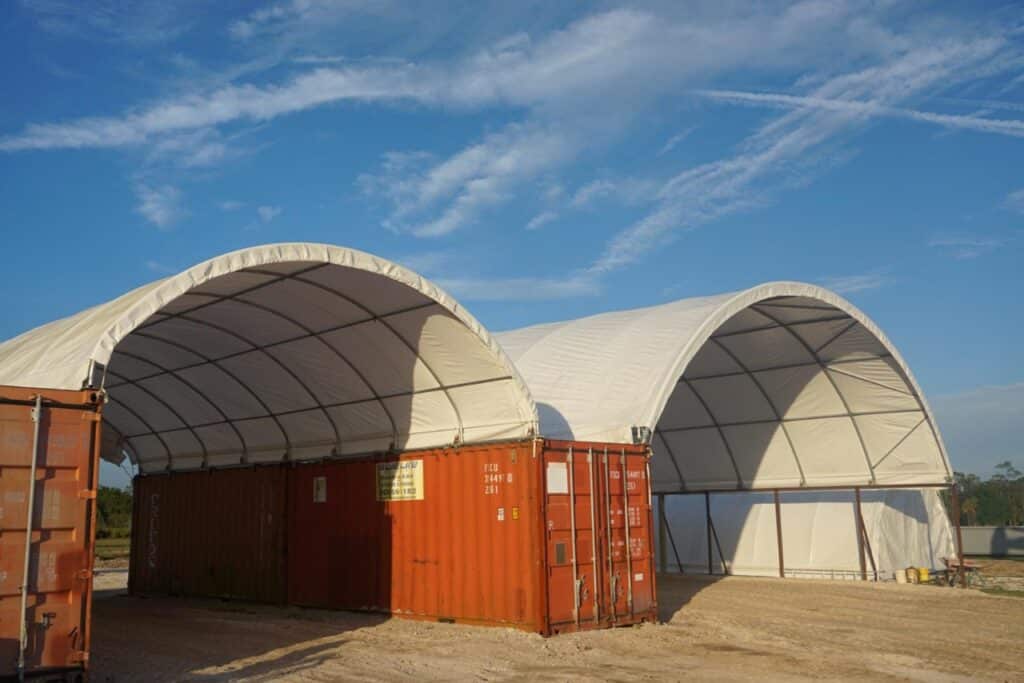 The overall cost of a hoop-building depends on what you're trying to buy. A single truss would cost you about $3.43 per square foot and a double truss would be about $4.81 per square foot.
The prices have gone up since the covid hit due to the cost of shipping the fabric building and fabric covers over to the U.S according to the Wall Street Journal: "The average price worldwide to ship a 40-foot container has more than quadrupled from a year ago, to $8,399 as of July 1. According to a global pricing index by London-based Drewry Shipping Consultants Ltd. The measure has surged 53.5% since the first week of May."
How do you build a hoop house?
Building a hoop house in a couple of easy steps.
Lets start off by pre-constructing your galvanized steel arches on the floor, which need to be hand tightened and assembled according to its instructions.
Then, you can move on to building the half arches and hand tightening them 4 at a time.
After that, go back and adjust them to make sure that they can hold. Once the 4 arches are up, continue with those 2 steps until every arch is complete.
Take into account, we have a specific fabric cover measured for these hoop buildings. Because of this, putting it on is the easiest step. This process could take 1 to 2 days depending on the hoop building size. 
Check out all the options we have!
The short answer is no. What we mean is that taking into consideration the money saved on construction, maintenance costs, and using our step by step instructions, our hoop barn becomes the cheapest building choice on the market when it comes to storage.
Reagardless of the size, we guarantee that our hoop buildings are ideal for storing anything you need to shelter. It is the perfect, profitable warehousing solution, with a long-lasting fabric cover.
Regardless of your needs, storage and canopy can offer you a budget-friendly solution that is easy to construct. Contact us now for a custom quote!
What size of hoop building is right for me?
Typically the smallest roof someone asks for is about 20×20 feet, though we have designed much larger buildings like the 40×100 to fit those big projects.
Dimensions may vary depending on your location, but you'll get the most bang for your buck by having a width of 60 feet or less. However, if that's not right for you we have the other widths to choose from if necessary.
However, there is also no limit to how many containers can be stacked on top of each other. So if you need a larger building it can be addressed while keeping the hoop building prices affordable. Stacking containers could give you access to more space and provide extra compartment storage.