How to make a shipping container garage?
Shipping container garages are perfect for anyone who wants to build a garage but doesn't have the time or resources. Shipping container garages can be built quickly and easily, using just a few basic tools and materials. All you need is some wood, nails, screws, brackets, and plywood sheets depending on the type of shipping container garage that you want to do. Most of these items can be found at your local hardware store.
There are many ideas on how you can make a workshop with your shipping containers, if you need some ideas for your garage design you can check the following images.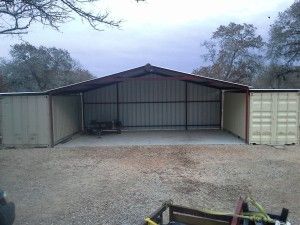 In this link, you can find many more ideas
In the last few years, it has become very popular to make garages with shipping container roof kits as it allows you to make great storage at a very low cost, easy, and with considerable durability.
What you need to build a shipping container garage:
two shipping containers
Drill
Screwdriver
Hammer
Measuring tape
Level
Drill bit
Screw
Ladder
Leveler
Shipping container roof kit
Shipping container garage kit
How to anchor your shipping container garage:
Make sure that your shipping container is level and plumb.
Make a 3 ft deep hole right beside one of the front and opposite rear corners of the container, in which the 6ft square steel will be installed.
Insert the 6ft square steel into the hole, making sure 3ft is below the surface
completely laying on the side of the containers
Weld the square steel to the 2 containers.
Pour cement in the holes to make sure the square steel won't move
Repeat the previous steps on the corners located on the opposite rear side.
The above instructions refer to how to anchor a shipping container roof. We recommend anchoring the shipping container roof to prevent strong winds from moving the container and to make the Conex box much more stable.
It is important that before choosing your shipping container you analyze how much snow falls in your state. If it is a state where it snows a lot, it is best to use a double truss and peak style structure for sizes over 33FT wide.
The advantage of a peak-style structure is that the snow can slide off much easier than a dome style.
If it is for a short period of time, the best thing to do is to bolt on the base plates. If it is for a long period, the best thing to do is to weld the base plates to the shipping container roof.
Depending on the size you have chosen you should check the manufacturer's manual, in our case you can check in this link the manuals we have available according to the size.
Finally, add your goods to your new garage and enjoy your new storage space!
To build a shipping container garage, all you need are two shipping containers, a drill, a screwdriver, a hammer, a measuring tape, a level, a drill bit, a screw, a ladder, a leveler, a shipping container roof kit.
FAQ's
What sizes do you have available?
The most popular sizes for garage storage are:
20Wx20Lx6.5H
20Wx40Lx6.5H
26Wx20Lx10H
26Wx40Lx10H
33Wx40Lx12H
33Wx40Lx12H Double trusses
40Wx40Lx15H
40Wx40Lx15H Double trusses
40Wx60Lx15H
You can validate more sizes on this page.
Is it necessary to have two containers?
You can use columns, blocks, or any support. The only thing that matters is that it is stable.